Wings Whitsunday Sailing and Australian Holiday Adventures
Graphic design and layouts provided by Hamish, Wagtail (Django) powered website aggregating tour information from several API sources like Wotif and Rezdy.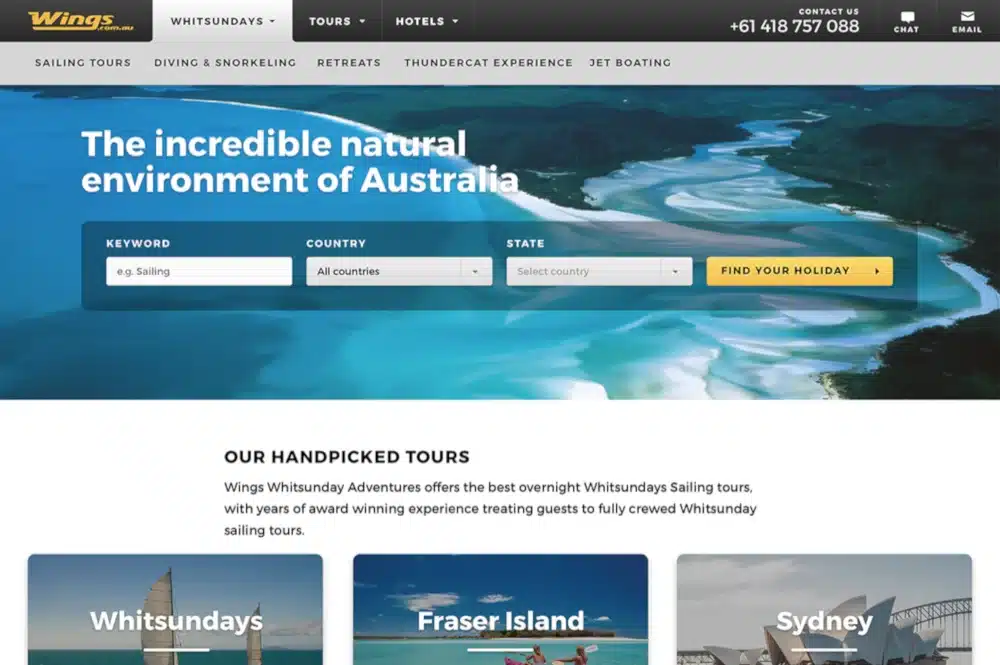 Hamish has years of experience working with tourism and accommodation businesses to create custom websites that provide real-time availability and booking information. One of his notable clients, Wings Whitsunday Adventures, worked with Hamish over several years to evolve their website into a complex online tourism booking service.
Hamish's expertise in coding and API integration allowed him to create a custom website for Wings Whitsunday Adventures that not only displayed live availability and booking information but also included advanced admin management features. This meant that Wings Whitsunday Adventures could manage their bookings and availability in real-time, improving the customer experience and streamlining their business operations.
With Hamish's help, Wings Whitsunday Adventures was able to create a visually stunning website that was optimised for search engines and showcased their unique offerings. Hamish's commitment to providing high-quality customer service ensured that the website was regularly maintained and updated to meet the changing needs of the business.
If you're in the tourism or accommodation industry and want to take your business to the next level with a custom website that utilises API data to display live availability and booking information, contact Hamish today to get started.